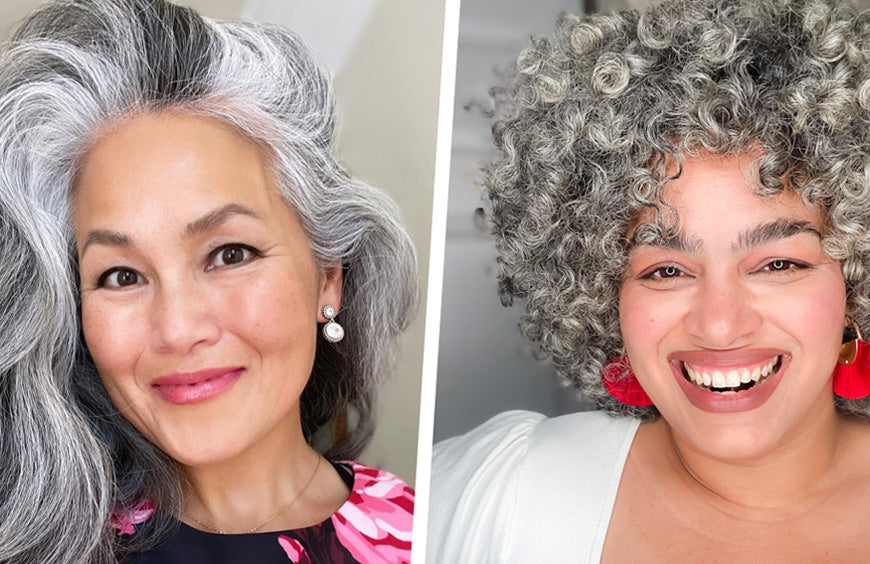 3 Ways To Make Your Gray Hair Look Its Best
If you've decided to embrace your natural new hue, we're sharing our tips to keep your gray hair looking and feeling its best.
1. Tone Your Gray Shade
In order to keep your new color looking vivid and even, it's a great idea to incorporate a hair gloss into your hair care routine. Hair gloss is great for counteracting any brassiness that might pop up in your hair.
2. Blend Gray Hair With Highlights Or Lowlights
Combining your grays with highlights and lowlights allows you to embrace your natural beauty while adding dimension, depth, and contrast to your look. For a richer look, opt for ash brown lowlights which will provide subtle depth to your hair. If you prefer to brighten up your color, give cool-toned platinum blonde highlights a go.
3. Play Up Your Hairstyle
Sometimes all it takes to boost your confidence is to switch things up in the hair-styling department 一 there are so many gorgeous ways to style your gray hair. If you're used to always wearing your hair in sleek 'dos, consider trying out heat-free styles. Nothing says natural beauty like allowing your true texture to do its thing.

Source: L'Oréal
Previous post
What is a Keratin Treatment?

Next post
What Exactly Is Hair Made Of?