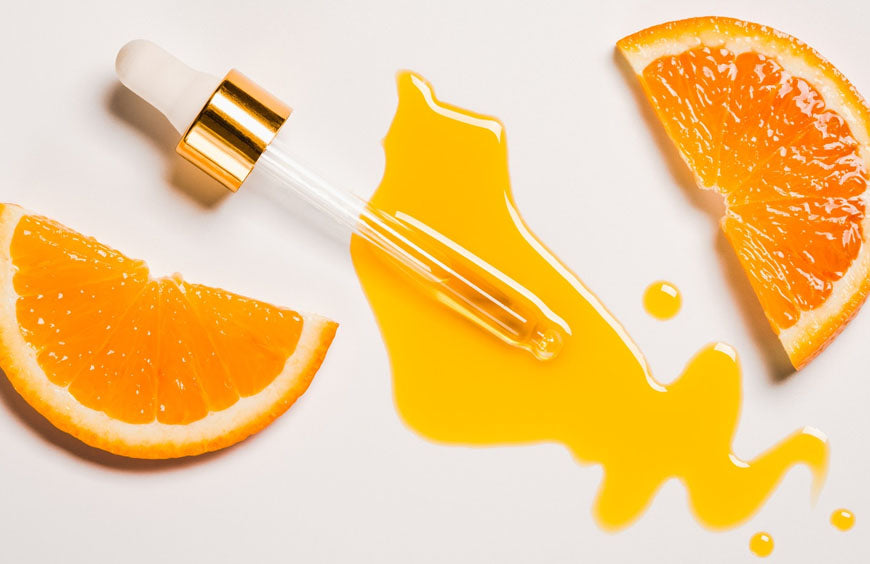 What Are the Benefits of Vitamin C Serum?
Vitamin C serum benefits often include brightening, giving skin a more radiant appearance, as well as a reduction of the appearance of fine lines, wrinkles, and hyperpigmentation for a more even skin tone. Keep in mind, however, that benefits will vary from serum to serum, so you'll need to do your research when picking a formula. Here are three things you want to look for in your vitamin C serum.
Fades Hyperpigmentation
The Journal of Clinical and Aesthetic Dermatology (JCAD), shares that vitamin C inhibits the action of the enzyme tyrosinase, which is responsible for turning tyrosine into melanin — in less science speak, this means it blocks the overproduction of melanin which prevents the formation of dark spots. Along with that, vitamin C also aids in fading hyperpigmentation, like dark spots and melasma. So, not only can vitamin C prevent future hyperpigmentation, but it also helps to fade existing dark spots and acne scars.
Boosts Radiances
Vitamin C is often interchangeably used with the term, 'brightening serum' because that's exactly what it does — fades dark spots and uneven skin tone to brighten the complexion.
Targets Signs of Aging
Vitamin C serums, namely, are typically used for their antioxidant and anti-aging properties. As we mentioned above, collagen production slows down as we age, which leads to more wrinkles and fine lines, crepey skin and uneven skin tone. Per the JCAD, vitamin C is essential for collagen biosynthesis, which means it boosts it and in turn, helps to reduce signs of photoaging, like the ones we just mentioned.

Source: L'Oréal
Previous post
What Is Eczema?

Next post
Dermatologist-recommended skin care for your 20s