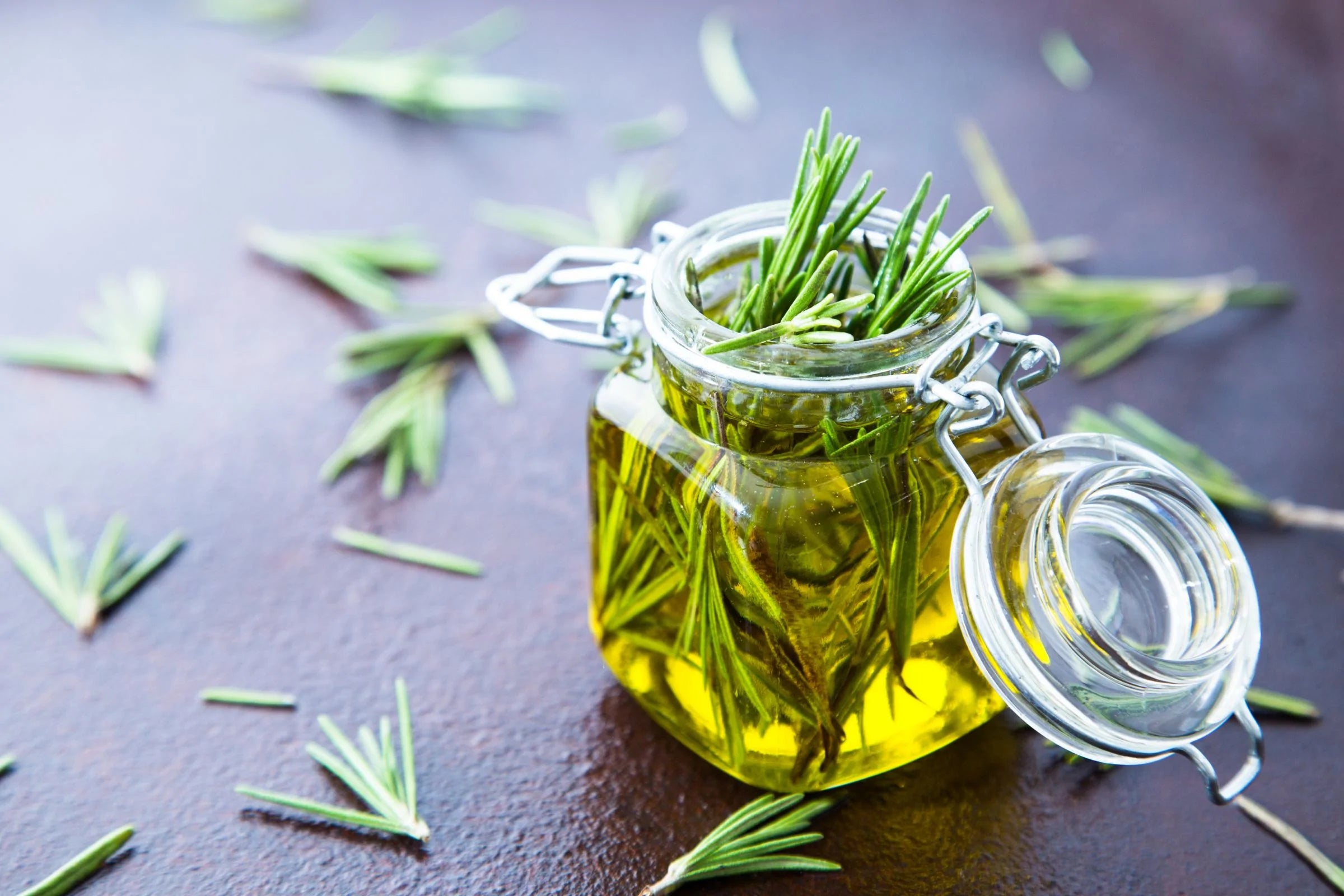 DIY Rosemary Beauty Recipes
It's a staple in your kitchen and a must-have in your greenhouse, but the small herbaceous shrub we call rosemary has a multitude of benefits outside the realms of gastronomy and gardening. And while we're obsessed with the evergreen aroma of the spiky perennial plant, we're thrilled about its DIY beauty potential. Primarily beneficial for those with oily, acne-prone skin, rosemary oil and extract both have powerful astringent, anti-fungal, and disinfecting properties. The plant is also rich in biologically active compounds and antioxidants such as calcium, vitamin B6, iron, cineole, and verbenon that effectively tone and tighten loose, sagging skin. Plant the Mediterranean-native herb in your garden for an aromatic winter pick-me-up, and try out some of our favorite DIY rosemary beauty recipes.
Rosemary Hair Rinse
1/2 cup dried rosemary
1/2 cup olive oil
Combine all ingredients in a saucepan over medium heat until the oil is warm. Turn off the stove and let the rosemary marinate in the oil for an additional 20 minutes. Strain the dried leaves from the mixture and pour the rosemary oil into a bottle or bowl. Proceed to coat your scalp and strands with the follicle-strengthening elixir, then wrap your hair in a shower cap. Leave the rinse on for 20 minutes as you go about your business, or blow-dry the cap on low heat for deeper penetration. When you're finished, shampoo your hair to remove the excess oil.
Rosemary Winter Mint Foot Scrub
1 1/2 cups brown sugar
1/4 cup epsom salt
1 cup carrier oil such as olive, jojoba, or sunflower
5 to 10 drops rosemary essential oil
5 to 10 drops peppermint essential oil
Mix the sugar, salt, and carrier oil in a medium-sized bowl, and stir until well-blended. Alternate adding one drop of peppermint and one drop of rosemary oil to make sure the scent is evenly distributed throughout your mixture. Store the mix in an air-tight jar in the bathroom, and scrub your tootsies clean every time you shower!
Acne-Fighting Rosemary Toner
3/4 cup water
1 fresh rosemary sprig
1 Tbsp black peppercorns
2 Tbsp apple cider vinegar
Apply this toner to oily or combination skin to reduce blemishes and calm inflammations. Boil 3/4 cup of water in a saucer, then drop in the rosemary and black pepper. When half of the water has evaporated from the pot, turn off the heat and let it cool. After the liquid has cooled down, pour it into an empty bottle and add the apple cider vinegar. Dab the mixture onto your skin with a cotton pad every evening after cleansing. This quantity should last you one or two weeks.
Via: Beautylish.com
Previous post
3 Exfoliating Tips to Keep in Mind This Winter

Next post
Bronzer vs. Contour: What's The Difference?