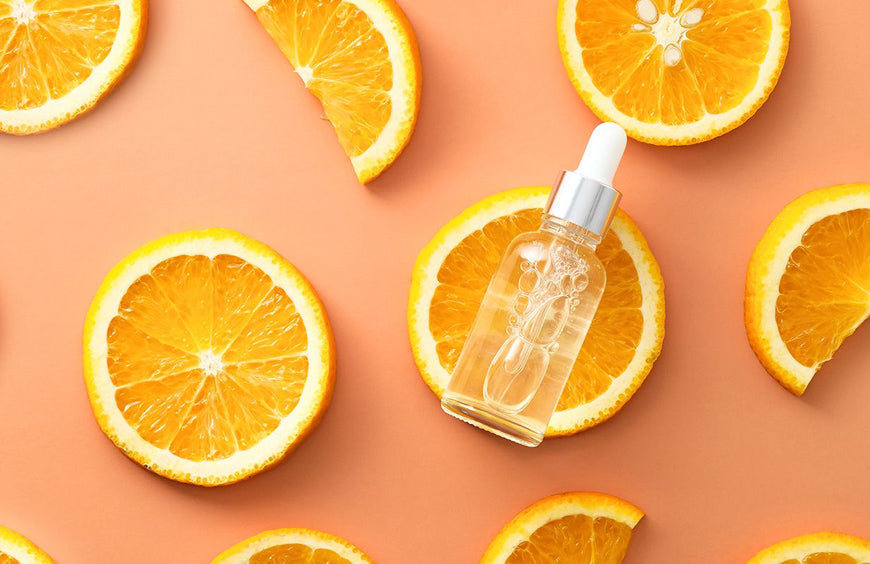 Vitamin C: How and When to Use Vitamin C
Discover how vitamin C serum benefits skin, boosts collagen production, reduces the appearance of pigmentation and works with Hyaluronic Acid and Retinol.
Vitamin C (also known as ascorbic acid) is a top active skincare ingredient that's been trending across the skincare category thanks to its wide array of benefits. From anti-aging to skin brightening and even sun protection this powerhouse ingredient has been shown to give skin a healthy and youthful glow. Discover how to incorporate Vitamin C skincare into your routine and when to use it.
Vitamin C to Help Defend Skin from Sun Damage & Antioxidant Properties
Sunscreen is an important part of protecting the skin from sun damage and aging. Whilst Vitamin C may sound surprising, studies have shown that sunscreens containing Vitamin C and the usage of a Vitamin C serum or product in your skincare routine can help to further protect the skin from photo damage caused by UV rays.
As sun damage can lead to signs of aging further down the line incorporating Vitamin C Skincare products along with daily SPF and sun protection can be a great combination.
Vitamin C for Skin Anti-Aging
Anti-aging benefits and results are often a hot topic and desire in skincare products. As an ingredient Vitamin C has been shown to have many anti-aging benefits, especially in the wrinkle department.
Vitamin C for Skin Pigmentation and Brightening
Uneven skin tone can affect all skin types and ages. From hyperpigmentation to birth marks and skin conditions there are a variety of different types of skin pigmentation causes. Uneven skin tone and pigmentation is one visible sign of aging caused by sun exposure. If you're looking to actually brighten the look of skin and decrease the appearance of pigmentation consider Vitamin C.

Source: Lancôme
Previous post
Facial Serums and The Skin Barrier

Next post
Hyaluronic Acid for Hair?